Venue & Hospitality
Welcome to the Official Attendee Housing Site for the
20th Global Cancer Summit
, that will be held in the beautiful and exciting city of Tokyo, Japan from November 20-21, 2019 Accommodations will be provided at Conference Venue
Conference Venue: Radisson Narita
Conference Dates: November 20-21, 2019
Hotel Services & Amenities
Audio/Visual Equipment Rental.
Business Center.
Business Phone Service.
Complimentary Printing Service.
Express Mail.
Fax.
Meeting Rooms.
Office Rental.
Photo Copying Service.
Secretarial Service.
Telex.
Typewriter.
Video Conference.
Video Messaging.
Video Phone.
ATM.
Baggage Storage.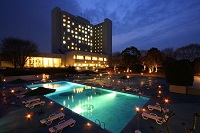 Transportation
Narita International Airport

Furugome, Narita, Chiba Prefecture 282-0004, Japan
1. Head south-east
2. Turn left at Airport East Pass 4 (Cross Point)(signs for City)
3. Turn right AT Chiyoda intersection onto Prefectural Road 106 Line
4. At Sakamoto Shiga (cross hand) , continue onto Line 62 Line
5. Turn right at the north side of the rock bridge
6. Continue on Route 106 Route

Destination will be on the left
Radisson Hotel Narita 650-35 Nanae, Tomisato, Chiba Prefecture 286-0221, Japan.
About City
Tokyo is Japan's capital and the planet's most crowded metropolis. Greater Tokyo is the world's most populated metropolitan area and is the center of Japanese culture, finance, and government. It is similarly one of Japan's 47 prefectures, containing of 23 central city wards and numerous cities, towns and villages west of the city center. A minor castle town in the 16th century, Edo developed Japan's political center in 1603 when Tokugawa Ieyasu established his feudal government there. A few eras later, Edo had grownup into one of the world's most populous cities. A bustling cosmopolitan city, Tokyo is also a foremost conveyance hub and a world economic and industrial center. Large parts of Tokyo were demolished in the Great Kanto Earthquake of 1923 and in the air raids of 1945.
The city boasts many world-class institutions of higher education, the highest concentration of universities in Japan. The metropolitan area comprises the major cities of Yokohama (the second largest city in Japan), Kawasaki, and Chiba, as well as rural mountain regions west of the city.
Today, Tokyo offers an apparently unlimited high-quality of shopping, entertainment, culture and dining to its visitors. The city's history can be valued in districts such as Asakusa, and in many excellent museums, historic temples and gardens. Different to common perception, Tokyo also bids several attractive green spaces in the city center and within moderately short train rides at its outskirts.
Tokyo is moreover a remarkable transportation center and a world monetary and industrial center and now there's another reason to visit: the 2020 summer Olympics will take place in Tokyo. As a result, not only is the mood refreshingly upbeat, but a raft of new expansions, hotels and infrastructure advancements are in the pipeline. The city claims many world-class institutions of higher education, the highest attention of universities in Japan. Tokyo Capital is comprised of 23 wards, 26 cities, seven towns, and eight villages. Tokyo claims a surprising number of quite beautiful parks. Tokyo also offers several eye-catching greenery areas in the city center and within quite short train rides at its outskirts.